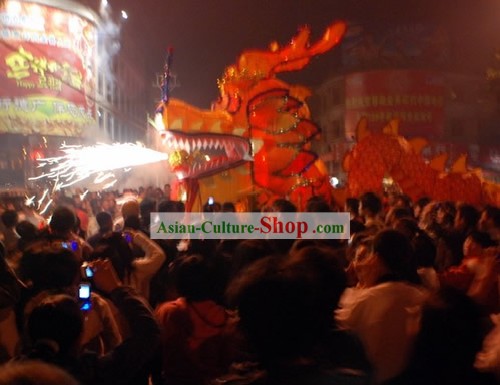 All handmade by the Chinese famous time-honored workshop craftsmen. It is not only a gorgeous and durable set of dragon dance costume, but also rare pieces of arts, worth collecting.

Four colors are available: yellow, red, green and blue. You can leave us a message about your color choice in the order form when order.

Material: bamboo framework and professional dragon dance fabric

Dancers quantity: 46

Dragon length: 300 feet

This set includes the following parts:
1. the large dragon head
2. the long dragon body
3. the dragon tail
4. the leading dragon ball
5. the bamboo framework

Free Gifts:
1. the folk music VCD of the dragon dance
2. the valuable teaching DVD of Chinese dragon dance

Use:
1. professional dragon dance competition
2. happy festival celebration
3. parade
4. martial arts practice and performance
5. party or big event performance

Characters:
1. this dragon can flame
2. lightweight and durable
3. very beautiful and eye-catching

Delivery: only ship delivery is available for such large dragon, it takes 20-40 days to receive.