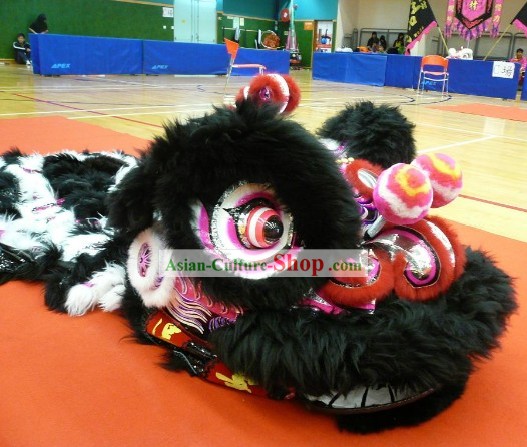 The lion dance dates back to the Han Dynasty (205 B.C. to 220 A.D in China) and during the Tang Dynasty (716-907 A.D.) it was at its peak. It is an important tradition in China, and it is believed to bring luck and happiness.

Delivery: Free 2-7 days worldwide delivery to your door via DHL, EMS, UPS or FedEx.

Size: Professional Size 2 which suits most adults

Handicraft: Well made by the finest traditional craftsmen using top long natural sheep wool, bamboo and durable fabric

Characters:
1. Lightweight, easy handle, very durable;
2. The eyes and ears are able to flap;
3. Traditional style.

Uses:
1. Happy festival celebration;
2. Opening celebration;
3. Parade;
4. Professional lion dance competition;
5. Martial arts practice and performance;
6. Display, decoration and collectionˇę?
7. Stage performance.

This lion dance costume is made up of the following parts:
1. The natural wool lion head;
2. The long natural wool lion tail;
3. The natural wool lion collar;
4. Two pair of natural wool lion pants;
5. Two pairs of natural wool lion claws;
6. Two lion dance belts.

Free gifts:
1. Guide 2DVD of Playing Lion Dance and Dragon Dance;
2. Lion Dance Music CD;
3. Traditional Silk Red Scroll which values $100.

Be Customized with Your Own Logo Design Free: if you want the traditional craftsmen to custom your name or several words on the lion head and the collar, feel free to leave us a message on the order form. This custom-made service is free.

If you have some requirements (such as rush order or color change etc.), feel free to leave us a message on the order form. This special service is free too.