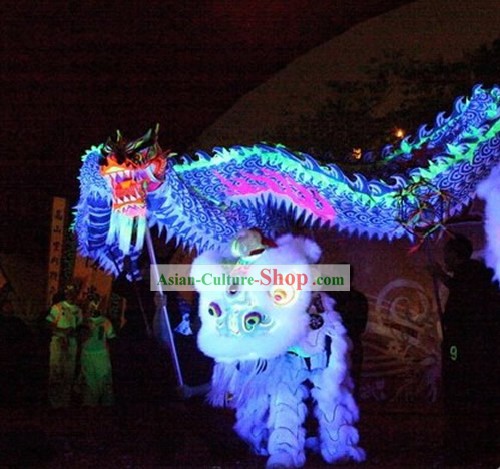 All handmade by the Chinese famous time-honored workshop craftsmen. It is not only a gorgeous and durable set of dragon dance costume, but also rare pieces of arts, worth collecting.

Dancers quantity: 10

Dragon length: 710"

Size of the dragon head: 28"*16"*16"

Weight: 16kg

This set includes the following parts:
1. the large luminous dragon head
2. the long luminous dragon body
3. the luminous dragon tail
4. the luminous leading dragon ball
5. the bamboo framework

Free Gifts:
1. the folk music VCD of the dragon dance
2. the valuable teaching DVD of Chinese dragon dance

Use:
1. professional dragon dance competition
2. happy festival celebration
3. parade
4. martial arts practice and performance
5. party or big event performance

Characters:
1. all handmade by the top traditional Chinese craftsmen who have been making dragons for over 40 years
2. delicate handicraf details of the whole dragon
3. mysterious luminous dragon which can glow in the dark under the fluroescence

Delivery: EMS or FedEx, 2-7 days fast air delivery to your door after sending out

Be Customized with Your Own Logo Design Free: If you want to let the traditional craftsmen to paint the logo or your name on the dragon, you can leave a message in the order form when order. This custom made service is free.